From the South Pole to Rural Wisconsin via Virtual Reality
Field Day Lab and librarians explore using penguin simulation to engage rural Latinx communities with polar research
August 1, 2023 | By Sofie Schachter
Field Day's new VR game introduces players to polar research by letting them embody an adelie penguin. (Field Day Lab image)
Last month, 17 librarians from across Wisconsin convened at the Wisconsin Center for Education Research (WCER) to explore how virtual reality (VR) experiences could help increase rural Latinx students' engagement with scientific research in the Arctic and Antarctic.
Field Day Lab, an educational video game lab within WCER and the UW–Madison School of Education, co-hosted the event. Field Day released a new testing version of its virtual reality (VR) game, Waddle: A Penguin's Tale, earlier this year. The game, which was built by Field Day and the Virtual Environments Lab with funding from the National Science Foundation (NSF) and support from polar researcher Jean Pennycook, allows players to see what it would be like to become a penguin.
David Gagnon, director of Field Day Lab, says Field Day is exploring how VR games like Waddle may help increase users' empathy and engagement with certain subjects. For players of Waddle, those issues include polar research and conservation.
"We built the experience around you having to embody a penguin and do the things penguins do, run into the challenges penguins face," Gagnon says. "We've got a whole line of research around how you do embodiment, and the next phase of it was the question: Does embodiment lead to empathy? Because we know empathy leads to participation."
With the new version of Waddle out in the world, Field Day is now working on the best ways to grow the game's relationship with its target audience: rural, Latinx populations in Wisconsin. Diego Román, an assistant professor in the Department of Curriculum and Instruction and expert in multicultural education, is helping lead that effort. Last month, a group of librarians from rural Wisconsin communities gathered on campus to learn more about VR and discuss how Waddle could be used to engage Latinx students at their libraries. The gathering was funded by a grant from the NSF.
Chris Baker, who works with the Library Services team within the Wisconsin Department of Public Instruction, was one of the 17 library professionals at the gathering. He says the collaboration between UW–Madison and librarians is an excellent example of how to foster innovation in librarianship.
"The needs for communities constantly evolve, and libraries hope to evolve with them," Baker says. "This idea of bringing librarians into a research and innovative technology space and asking them to take that back into their communities to reach underrepresented people creates so much opportunity for other projects."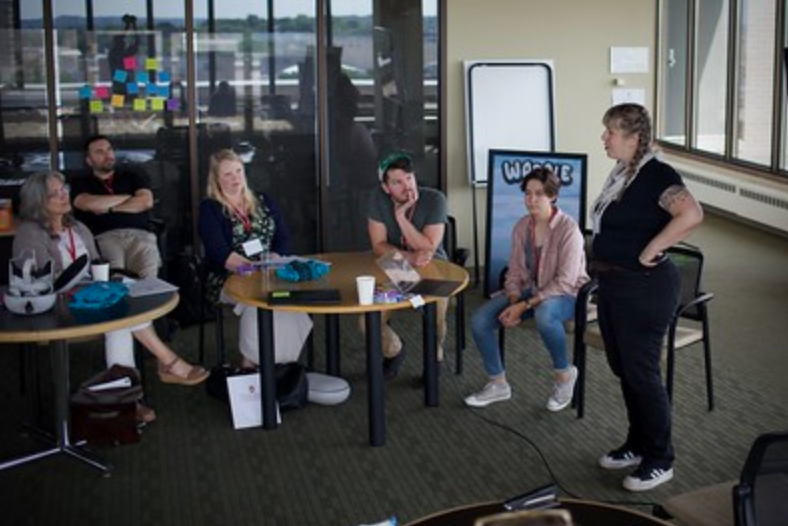 Field Day Lab Creative Director Sarah Gagnon addresses a group of librarians and Field Day staff.
Gagnon says he sees the event as a way to establish a network of libraries across Wisconsin that are connected to scholarship and resources available from UW–Madison.
"It's Wisconsin Idea-ish," Gagnon says. "It's how we serve the rest of the state."
The event was made possible through a partnership between Field Day Lab, WID Virtual Environments Group, Wisconsin Alumni Research Foundation, PolarTrec, the Wisconsin Center for Education Research, and the Institute for Learning Innovation.
Field Day education director and associate researcher Jim Mathews says the opinions and experience of librarians were also very important in the development and testing of Waddle. Field Day often taps into communities of educators to get feedback as the lab builds its games.
"One of the amazing things about having a project like this is that it gives you an opportunity to see how creative librarians are in terms of collaborating, coming up with ideas, figuring out ways to serve their local communities — it's really inspiring," Mathews says. "Seeing the work they do is pretty awesome."
Kris McCoy, a librarian in Mineral Point and another attendee at the summer gathering, says she's excited about offering VR experiences at her library this fall.
"I've learned so much about the tools and the hands-on application of using the VR headset," McCoy says. "I'm really looking forward to implementing all the great ideas when school starts up again."
Learn more about Waddle: A Penguin's Tale here.
— School of Education Communications