Richard Halverson
Professor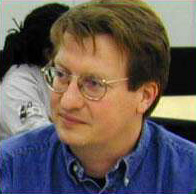 Dr. Halverson's research aims to bring the research methods and practices of the Learning Sciences to the world of educational leadership. His research explores the use of data driven instructional systems in schools, and the development of game and simulation based tools for professional learning. He currently co-directs the Comprehensive Assessment of Leadership for Learning (CALL) study to develop an on-line, 360-degree formative evaluation system for school leadership.
Dr. Halverson's work integrates how classical ideas of wisdom and practical knowledge can be used to understand the complex work of contemporary school leaders. He has developed research methods and theoretical frameworks to access, document and communicate the expertise of school leaders.
Dr. Halverson co-founded the Games Learning and Society (GLS) research group at UW-Madison. He is a Fellow at the Wisconsin Institutes for Discovery, and is an affiliate member of the UW-Madison Curriculum & Instruction and Educational Psychology departments, and a founding member of the UW-Madison Learning Sciences program area.
Contact Information
halverson@education.wisc.edu
Phone: (608) 265-3169
Office: 753C Ed Sciences
Current Projects
A CALL for Equity-Centered Leadership (CALL-ECL)
Completed Projects
Data-Driven Instructional Systems Accessing How School Leaders Develop Local Capacity to Use Data to Influence Instruction
Tracking the Processes of Data Driven Decision Making in Higher Education
Connecting Educators and Evidence through Data
Personalization in Practice (PIP)
Connecting Educators and Evidence through Data
Connecting Educators and Evidence through Data (The Network Subaccount of 144-AAB1493)
Wisconsin Educator Effectiveness (NETWORK Subaccount)