New Grants Explore How College Students Transition to Work
First Up, Latinx Parents and Anthropology Majors
May 14, 2018
Nearly 2 million 2018 college graduates are readying themselves for the workforce, however, past or present, we know little about this life-changing transition to the world of work. Two new CCWT research projects take off to start filling in the blanks. Photo courtesy of UW-Madison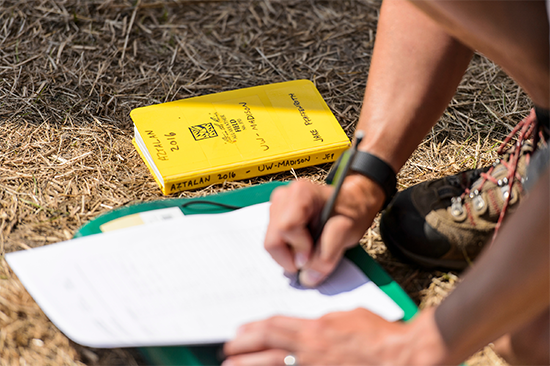 While often not considered a "job-ready" major, anthropology provides students research experience and methods training valued by employers in many fields. Photo courtesy of UW-Madison
Over the next two years, two research studies funded by the University of Wisconsin-Madison's Center for Research on College to Workforce Transitions (CCWT) will help reveal how two types of college students – Latinx parents attending community college and undergraduate anthropology majors – transition to work and life after college.
These grants are the first awarded by CCWT, which selected a proposal by Adrian H. Huerta, University of Southern California, and Cecilia Rios-Aguilar, University of California, Los Angeles funded at $19,988; and another by Daniel Ginsberg, American Anthropological Association (AAA), for an award of $19,985; as the winners of its first hosted research competition.
"The goal of these awards is to support applied research that will create new knowledge about how college students experience their transitions from college to work," states Matt Hora, CCWT director. Hora, a UW–Madison education research scientist and assistant professor, launched the center a year ago in the Wisconsin Center for Education Research, part of the university's School of Education.
The focus of the proposal by Huerta and Rios-Aguilar is Latinx parents studying at community colleges, a group not equally represented in existing studies of the 4.8 million undergraduate students raising children. The researchers will conduct a study using quantitative and qualitative methods at a community college serving a large Latinx population to learn how Latinx parents attending the college either use or do not use college resources to prepare for the job market and employment.
"Community colleges face many challenges in supporting their students. But the challenges become even greater for students who must balance academic responsibilities and schedules with those of parenting," states Huerta.
Aguilar-Rios adds, "Most college students with one or more children also work full or part-time. Often they just don't have enough hours in a day to complete assignments for their classes and study for exams, while also caring for their families and helping their children with homework."
According to Ginsberg, who will study anthropology majors, "Anthropology often is not thought of as a practical, 'job-ready' major. We know for a fact it can be, but we don't know how well that message is getting out to students." He says employers in fields from historic preservation to user experience research need trained anthropologists, and graduate employment and satisfaction rates in the social sciences are comparable to those in the natural sciences.
Ginsberg will recruit anthropology students as undergraduate research fellows, and train and mentor them in conducting ethnographic research related to their peers' preparations for life after college. "We want the study's findings to support AAA's professional development activities by identifying common student concerns and best practices in advising." Ginsberg adds that the skills developed by the project's undergrad research fellows will also benefit them as students of anthropology by providing applied research experience and methods training. The AAA plans to share practical findings from its research with its members, as well as with the social science community at large. "We are very pleased with the two research proposals we've selected for our first grant awards," states Hora. "We look forward to findings that will help inform policies, programs and practices promoting academic and career success for all learners."